Management
Dr. Mrs. Umayal Ramanathan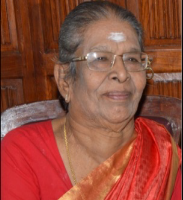 Secretary-Emeritus
Dr. (Mrs.) Umayal Ramanathan, the daughter of Dr. R.M. Alagappa Chettiar, is the founder of the Alagappa Matriculation Higher Secondary School in Karaikudi and in Chennai. Subsequently, she also launched the Umayal Play School and the Day Care Center. She founded Dr. (Mrs.) Umayal Ramanathan College for Women in 2006 and has actively worked to expand the infrastructure as well as the academic programs and to provide vocational training to enable women in the community to prosper. She is enthusiastically involved in the field of education and social service. She serves as a Syndicate Member of the Alagappa University and as the Managing Trustee of the Dr. Alagappa Chettiar Educational Trust and the Asoka Charitable Trust. She has been an active member of the Social Welfare Board of Ramnad District and the Chairperson of Gangadeeswarar Temple, Chennai.
Dr. (Mrs.) Umayal Ramanathan was awarded the Doctor of Letters Honoris causa by the Honourable Governor of Tamil Nadu. In recognition of her outstanding services to the society, Dr. Mrs. Umayal Ramanathan was awarded the prestigious Indira Gandhi Priyadarshini Award for National Integration and National Unity by the All India National Unity Conference on Smt.Indira Gandhi's seventy-fifth Birth Anniversary. She was also honoured with a Doctorate Degree by the University of Madras on its 150th Convocation by his Excellency, The Governor of Tamil Nadu.
Dr. Ramanathan Vairavan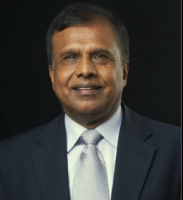 Chairman & Correspondent
Dr. Ramanathan Vairavan, the grandson of Dr. R.M. Alagappa Chettiar obtained his undergraduate degree in Chemical Engineering at the Alagappa College of Technology in Madras and went on to pursue his post graduate education at Washington University, St. Louis, Missouri, USA, with a Master of Science degree in Biomedical Engineering and a Master's Degree in Business Administration. He has held various executive positions with the multinational company, Hoechst AG of Germany in the US, Germany and Singapore. He co-founded a US based company, Auto Genomics, engaged in the development of a novel DNA based technology of biochips, which enables doctors to provide effective therapy to patients based on their genetic makeup. This technology is set to revolutionize the process of diagnosis,monitoring and management leading to the emerging era of personalized medicine. Dr. Ramanathan Vairavan was honoured with Doctor of Literature (Honoris Causa) in recognition of his contribution to education and to the fields of Pharmacogenetics and Molecular Oncology during the 30th Convocation of the Alagappa University on 20.12.2017 by the Hon'ble Governor of Tamil Nadu Thiru. Banwarilal Purohit. Dr. Ramanathan Vairavan has been assiduously involved in enhancing the quality of education and promoting the infrastructure of the educational institutions, located in Chennai and Karaikudi. He is the founder of the Alagappa Girls Matriculation Higher Secondary School, Dr. Alagappa Academy CBSE School and Alagappa College of Performing Arts (Affiliated to TN Music and Fine Arts University). His strategic vision is to establish a Law College and a Medical College in Karaikudi and thus realize his beloved grandfather's dream.
Ms. DEVI ALAMELU VAIRAVAN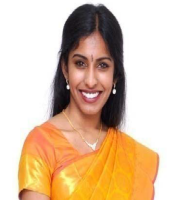 Trustee
Ms. Devi Alamelu Vairavan is a practicing attorney in New York, USA. She schooled mostly in the US but spent a year at the St. Hilda's convent in Ooty, where she learned to read and write Tamil. She obtained her bachelor's degree specializing in Criminal Justice and Molecular Biology in California and obtained her Juris Doctorate law degree at New York Law School with focus in Intellectual Property, Criminal, Family, Matrimonial and Health Law. She now works for The New York Legal Aid Society representing over 100 clients in exclusively civil litigation matters serving the underprivileged population of New York. To date she has successfully represented 65 clients. From her early age Ms. Devi Alamelu Vairavan has been passionate about education and has actively contributed to the growth of the Alagappa Group of Educational Institutions. Her mission in life is to follow the footsteps of her father – Dr. Ramanathan Vairavan, her grandmother – Dr. Mrs. Umayal Ramanathan and her great-grandfather – Dr. R.M. Alagappa Chettiar by continuing to give back to society and broaden the spectrum of education offered to our community with emphasis on achieving academic excellence and offering opportunities for immediate employment.