Management
Late Dr. Mrs. Umayal Ramanathan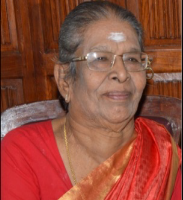 Secretary-Emeritus
Late Dr. (Mrs.) Umayal Ramanathan, the daughter of Dr. R.M. Alagappa Chettiar, is the founder of the Alagappa Matriculation Higher Secondary School in Karaikudi and in Chennai. Subsequently, she also launched the Umayal Play School and the Day Care Center. She founded Dr. (Mrs.) Umayal Ramanathan College for Women in 2006 and has actively worked to expand the infrastructure as well as the academic programs and to provide vocational training to enable women in the community to prosper. She is enthusiastically involved in the field of education and social service. She serves as a Syndicate Member of the Alagappa University and as the Managing Trustee of the Dr. Alagappa Chettiar Educational Trust and the Asoka Charitable Trust. She has been an active member of the Social Welfare Board of Ramnad District and the Chairperson of Gangadeeswarar Temple, Chennai.
Dr. (Mrs.) Umayal Ramanathan was awarded the Doctor of Letters Honoris causa by the Honourable Governor of Tamil Nadu. In recognition of her outstanding services to the society, Dr. Mrs. Umayal Ramanathan was awarded the prestigious Indira Gandhi Priyadarshini Award for National Integration and National Unity by the All India National Unity Conference on Smt.Indira Gandhi's seventy-fifth Birth Anniversary. She was also honoured with a Doctorate Degree by the University of Madras on its 150th Convocation by his Excellency, The Governor of Tamil Nadu.
Dr. Ramanathan Vairavan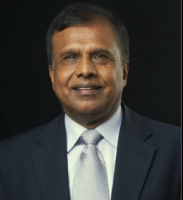 Chairman & Correspondent
Dr. Ramanathan Vairavan, an entrepreneur and educationalist is the grandson of the late Philanthropist Dr. RM. Alagappa Chettiar. With more than 40 years' experience in the health care industry, his experience working in executive management for the multinational German company Hoechst AG in the US, Germany & Singapore provided him a wealth of experience in various facets of the industry. This led him to be a co-founder of a biotechnology company based in Carlsbad, CA, that used novel biofilm chip technology to perform disease signatures through genomic and proteomic profiling with tests in genetic disorders, and oncology. Initially planned for an IPO the attractive technology garnered significant interests from healthcare firms and was sold. His focus now is with DiaCarta, a molecular diagnostics company that has developed a revolutionary approach to transform care for patients undergoing chemo and radiation therapy by providing effective precision diagnostics, mitigate adverse events and enhance patient care.
As the Chairman/ Secretary of the Dr. Alagappa Chettiar Educational Trust in Karaikudi and the Asoka Charitable Trust in Chennai, he manages over 8000 students in primary, secondary, and collegiate education. He has been actively involved in enhancing the quality of education and the infrastructure of the schools, both in Chennai and Karaikudi.
As students of Bharatanatyam, spend considerable time to learn and perform their Arangetram and are not rewarded with a degree for their years of learning, he pioneered in designing a first of its kind novel academic curriculum in 2005 to preserve the repertoire of Tamil culture that is embedded in the dance and founded Alagappa Performing Arts Academy by collaborating with leading artistes and Alagappa University. Today more than 35 dance centers offer this program in the US. The Academy boasts of almost 1000 enrolled students who get college credit from US Universities for enrolling in the program.
He established several institutions, including Alagappa Institute of Information Technology in Chennai (1999), Alagappa Foundation Inc. California, USA (2001), Alagappa Performing Arts Academy, Dance Program (2005), Alagappa Performing Arts Academy, Music Program (2008), Alagappa Performing Arts Academy, Vasthu Science (2012), Alagappa Academy (CBSE Program), Karaikudi (2014), Alagappa Girls School, Karaikudi (2015), the only all-girls school in Karaikudi, and the Alagappa College of Nursing (2018) Plans are underway to set up an Ayurvedic College in Karaikudi. and a defined mission to build a Medical College in Karaikudi.
He obtained a BS degree in Chemical Engineering from AC Tech in Madras, an MS degree in Biomedical Engineering from Washington University, St. Louis, and an MBA from Fairleigh Dickinson University. He was awarded a doctorate degree by Alagappa University, Tamil Nadu, India in 2018
Awards and Honors
Syndicate Member, Alagappa University
Distinguished Alumni Awardee 2019 – AC Tech, Anna University
President, Tamil Isai Sangam, Karaikudi
Ms. DEVI ALAMELU VAIRAVAN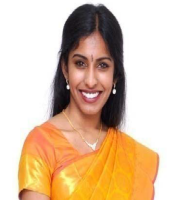 Trustee
Ms. Devi Alamelu Vairavan is a practicing attorney in New York, USA. She schooled mostly in the US but spent a year at the St. Hilda's convent in Ooty, where she learned to read and write Tamil. She obtained her bachelor's degree specializing in Criminal Justice and Molecular Biology in California and obtained her Juris Doctorate law degree at New York Law School with focus in Intellectual Property, Criminal, Family, Matrimonial and Health Law. She now works for The New York Legal Aid Society representing over 100 clients in exclusively civil litigation matters serving the underprivileged population of New York. To date she has successfully represented 65 clients. From her early age Ms. Devi Alamelu Vairavan has been passionate about education and has actively contributed to the growth of the Alagappa Group of Educational Institutions. Her mission in life is to follow the footsteps of her father – Dr. Ramanathan Vairavan, her grandmother – Dr. Mrs. Umayal Ramanathan and her great-grandfather – Dr. R.M. Alagappa Chettiar by continuing to give back to society and broaden the spectrum of education offered to our community with emphasis on achieving academic excellence and offering opportunities for immediate employment.