Principal's Desk
Greetings!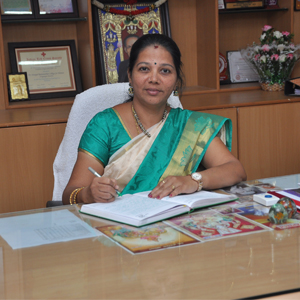 It gives me immense pleasure to express my thoughts as the Principal in charge of Dr.Umayal Ramanathan College for Women as being a part of the Alagappa Group of Insitutions offering services in the field of education. Our college is committed to imparting holistic education to women and to prepare them to face the challenges of modern society.
We have high class infrastructure with well- equipped Laboratories, Class Rooms, Library, Computer Centre and Cafeteria. With the support of qualified, dedicated and hardworking faculty, our students have achieved excellent ranks. Our college always tries to maintain high standards for achieving excellence by providing proper education, perfect guidance and concentrating on overall development of students. Our students are developed in such a manner that they not only prove themselves in the field of education but also become successful in their real life .The college gives due importance to co-curricular and extra-curricular activities. Our students excel in intercollegiate and University competitions in extra-curricular events and brought many laurels to the college. Our aim is to impart the best knowledge possible and technical knowhow to our students which helps them to become responsible and respected citizens.
Career Development Cell of our college helps students in making them aware of the various job opportunities in their respective fields with the aid in applying for the jobs and conducts campus interviews to recruit them. College also conducts personality development programmes, skill development programmes and special lectures for continuous improvement of students.
We are in constant touch with parents and keep informing them of the performance of their wards through effective correspondence. We are committed to impart necessary skills and knowledge to our students in best possible manner, in good spirit and in good environment by allowing them to dream big and achieve high.
As the Principal of this renowned institution, I thank all those who joined their hands together for the progress of the college by all means. May the Almighty shower His blessings upon Dr.URCW forever.
With best wishes
Dr.S.Jeyashree, M.C.S., M.Com., M.Phil., Ph.D
Principal