Infrastructure
URCW has good infrastructure and always focuses on student's comfort and convenience. It plays a vital role in the development of our college and located in the heart of the town with 15 acres of spacious and splendid land. The serene campus provides a unique and pleasant environment conducive to learning. Garden with a green environment, spacious playground and classrooms facilitated with the good teaching-learning process, auditorium, conference halls, recreational rooms, science laboratories with excellent equipment and advanced technologies, computer labs with high-speed internet connectivity, and a fully automated library are designed to provide the required infrastructure for students.
Hostel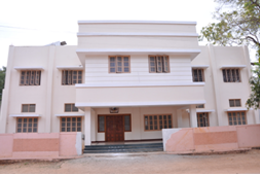 Our college provides excellent hostel facilities for students to be comfortable in a clean and hygienic environment. The infrastructure facilitates the students with spacious rooms, dining halls, recreation hall which has television, newspapers, magazines, medical facility, and services. The hostel caters to good, hygienic, and nutritious food to the students. Uninterrupted power supply, STD/ ISD telephone facilities, high-speed Wi-Fi connectivity facilities are available. The hostel management comprises of Chief Warden, Deputy Wardens, and Mess Representatives who are highly experienced persons and strive to provide the best atmosphere for the students.
Playground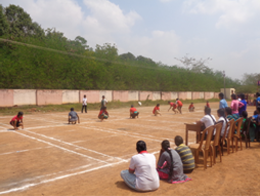 College has a very large spacious playground. It creates a favorable environment for students to play with pleasure and enthusiasm. It provides both indoor and outdoor sports facilities in wide range of games such as Chess, Carom, Shuttle, Kabaddi, Kho-Kho, Volley ball, Football and Handball.
Information Technology centre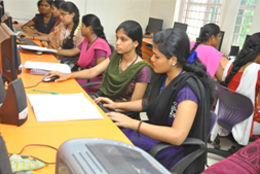 With India becoming a favorable hub of Information Technology, the college offers two ultra-modern, highly configured computer laboratories with State of the Art equipment for both UG and PG students separately.  It is user-friendly and well-furnished Computer Labs equipped with 110 modern computers having power back up facility. Students can avail of a Wi-Fi facility. The lab is meant for conducting classes for programming languages like VB, UNIX, C++, etc. which is subjected to the curriculum. Dual operating system facility is also available.
Microbiology and Biotechnology Laboratory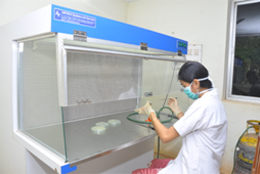 The College has a Biotechnology and Microbiology laboratory with special features containing a wide range of modern equipment required for basic biotechnological and microbiological work. Necessary instruments for isolation, purification, and quantification of biomolecules, identification, and maintenance of microbes are available. Relevant text and reference books are available in the departmental library.
Physics and Electronics and Communication Laboratory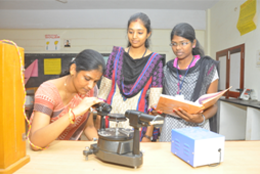 A well-resourced laboratory is available which is ideal for students conducting practical work. This lab is equipped with components required for Power supply design procedure, Digital system design, Analog system design with CRO, function generator, etc. This laboratory experiment offers an opportunity for the students to familiarize themselves with various instruments, which they read in theory and this finds application in industry, engineering, and everyday life.
Library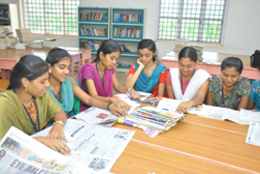 Our library inspires the students to explore and achieve and is well equipped with an extensive collection of books of various disciplines, back volume journals, magazines with e-library, and a book bank facility. The library is digitalized and students can access electronic resources. The library extends its service by providing Question Bank which helps the students to access the previous year's question papers, News Paper Clippings related to education, employment opportunities, and current issues. The library has rich collection of textbooks, reference books, national journals in all branches of science, management, and general studies. The library receives newsletters, journals from various societies and organizations and provides the latest information in education, research, and development regularly to the students and faculty members. It supports and facilitates the students and as well as the faculty members on all working days from 9.30 a.m. to 5.00 p.m.